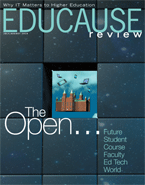 This is my first day officially at work in weeks, so I only have time for a brief shout-out to the current issue of EDUCAUSE Review, which takes on open education as its defining theme, each feature article going into issues beyond simply sharing content as open educational resources.
I hope to blog a little more about some of the goodies here, there is an impressive set of feature contributors: David Wiley (on openness as a core value of education), Vicki Davis (on why open content is not changing students' lives), Dave Cormier and George Siemens (on the deeper implications of open courses), Maria H. Andersen (on a broadly constituted open faculty) and Carolina Rossini (on open education as a foundation for an open world).
It was an honour to co-write a piece on open ed tech, and it was fun working with Jim Groom to pull it together. Part of me wishes we could just dump our instant messenger logs and transcripts of late night phone rants in lieu of an article, that's the part of the process I'll remember most fondly. Looking at it now, I see all sorts of holes, or places we might have gone into more detail… but I suppose that's why we have blogs. For instance, I would like to work up the implications of this post by Jim into an examination of how higher education might act as a steward of knowledge on the open web.
Congratulations and special thanks to EDUCAUSE Review editor D. Teddy Diggs, who pulled this issue together. Teddy is simply a fantastic editor, it's always a pleasure to see what she does to mangled prose. And she has a special gift for handling neurotic writers — or, so I've heard…